آموزش سوالات Multiple Choice لیسنینگ آیلتس
سوالات Multiple Choice (چند گزینه ای) لیسنینگ آیلتس یکی از سخت ترین انواع سوالات است، اما اگر استراتژی مناسبی برای پاسخ دادن به آنها داشته باشید، می‌توانید این کار را با موفقیت انجام دهید. این چیزی است که این درس به شما خواهد آموخت.
در سوالات چند گزینه ای، از شما خواسته می شود که پاسخ صحیح را از لیستی از گزینه ها انتخاب کنید. دو نوع وجود دارد:
Single questions with a choice of 3 answers (A, B or C). Occasionally, there may be 4 options.
List questions. These have a longer list of possible answers and you must select more than one as specified in the question.
قبل از شروع Listening
سوالات را بخوانید و مشخص کنید که در واقع چه چیزی پرسیده می‌شود.
کلمه کلیدی سوال را مشخص کنید. تفاوت هر گزینه را بیابید.

به پارافریز یا مترادف

عبارتی که ممکن است بشنوید، فکر کنید.
در زمان گوش دادن
هنگام گوش دادن، به دنبال

پارافریز و مترادف کلمات

باشید.
اولین پاسخی را که می شنوید ننویسید. احتمالاً در مورد بیش از یک گزینه صحبت خواهند کرد، بنابراین منتظر بمانید تا در مورد همه آنها صحبت کرده و سپس پاسخ دهید. مراقب پاسخ‌هایی باشید که توسط گوینده داده می شود و سپس نقض می شود. (distractors)
اگر فکر می کنید پاسخی درست است، یک تیک کنار آن بگذارید، اما همچنان به گوش دادن ادامه دهید، تا از صحیح بودن اطمینان حاصل کنید.
کنار پاسخ‌هایی را که می دانید نادرست هستند، ضربدر بگذارید.
بیش از زمان لازم وقت نگذارید. اگر پاسخی را از دست دادید، حدس بزنید و ادامه دهید.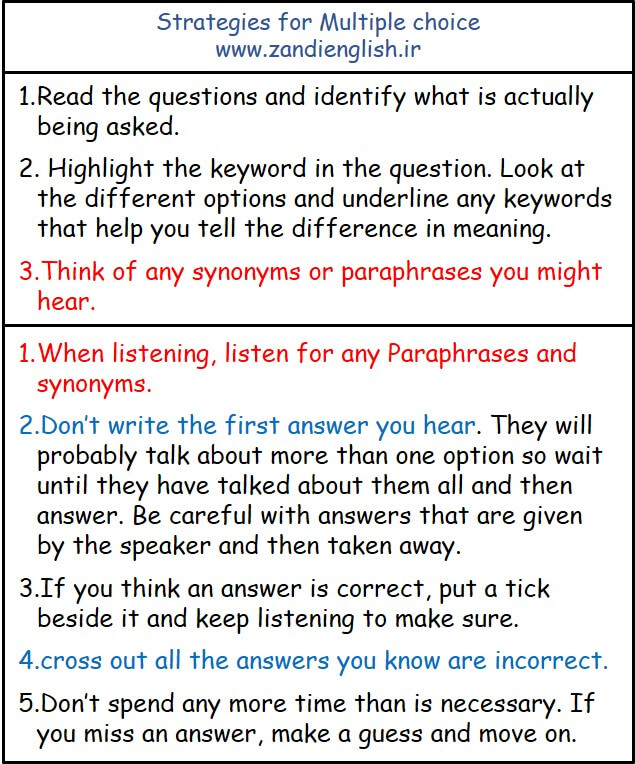 Practice Cambridge 11 – test 1 – Section 3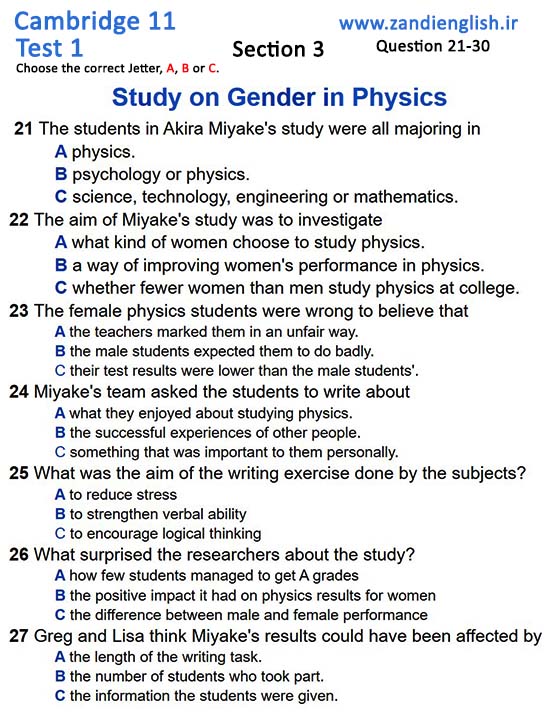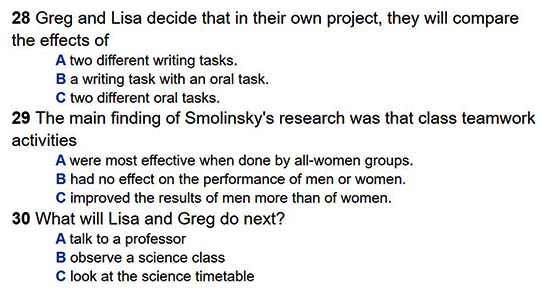 C
B
B
C
A
B
C
A
B
A
SECTION 3
LISA: OK, Greg, so I finally managed to read the article you mentioned – the one about the study on gender in physics.
GREG: About the Study of college students done by Akira Miyake and his team? Yeah. I was interested that the researchers were actually a mix of psychologists and physicists. That's an unusual combination.
LISA: Yeah. I got a little confused at first about which students the study was based on. They weren't actually majoring in physics – they were majoring in what's known as the STEM disciplines. That's science. technology. engineering and …
GREG: and math. Yes, but they were all doing physics courses as part of their studies.
LISA: That's correct. So, as I understood it, Miyake and co-started from the fact that women are underrepresented in introductory physics courses at college, and also that on average, the women who do enroll on these courses perform more poorly than the men. No one really knows why this is the case.
GREG: Yeah. But what the researchers wanted to find out was basically what they could do about the relatively low level of the women's results. But in order to find a solution they needed to find out more about the nature of the problem.
LISA: Right – now let's see if I can remember … it was that in the physics class, the female students thought the male students all assumed that women weren't any good at physics … was that it? And they thought that the men expected them to get poor results in their tests.
GREG: That's what the women thought, and that made them nervous, so they did get poor results. But actually, they were wrong … No one was making any assumptions about the female students at all.
LISA: Anyway, what Miyake's team did was quite simple – gelling the students to do some writing before they went into the physics class. What did they call it?
GREG: Values-affirmation – they had to write an essay focusing on things that were significant to them, not particularly to do with the subject they were studying. but more general things like music. or people who mattered to them.
LISA: Right. So the idea of doing the writing is that this gets the students thinking in a positive way.
GREG: And putting these thoughts into words can relax them and help them overcome the psychological factors that lead to poor performance. Yeah. But what the researchers in the study hadn't expected was that this one activity raised the women's physics grades from the C to the B range.
LISA: A huge change. Pity, it wasn't to an A, but still! No, but it does suggest that the women were seriously underperforming beforehand, in comparison with the men.
GREG: Yes. Mind you, Miyake's article left out a lot of details. Like, did the students do the
writing just once, or several times? And had they been told why they were doing the writing? That might have affected the results.
LISA: You mean, if they know the researchers thought it might help them to improve, then they'd just try to fulfill that expectation?
GREG: Exactly.
GREG: So anyway, I thought for our project we could do a similar study, but investigate whether ii really was the writing activity that had that result.
LISA: OK. So we could ask them to do a writing task about something completely different … something more factual? Like a general knowledge topic.
GREG: Maybe … or we could have half the students doing a writing task and half doing something else, like an oral task.
LISA: Or even, half do the same writing task as in the original research and half do a factual writing task. Then we'd see if it really is the topic that made the difference, or something else.
GREG: That's it. Good. So at our meeting with the supervisor on Monday we can tell him we've decided on our project. We should have our aims ready by then. I suppose we need to read the original study – the article's just a summary.
LISA: And there was another article I read, by Smolinsky. It was about her research on how women and men perform in mixed teams in class, compared with single-sex teams and on their own.
GREG: Let me guess … the women were better at teamwork.
LISA: That's what I expected, but actually the men and the women got the same results whether they were working in teams or on their own. But I guess it's not that relevant to us.
GREG: What worries me anyway is how we're going to get everything done in the time.
LISA: We'll be OK now we know what we're doing. Though I'm not clear how we assess whether the students in our experiment actually make any progress or not …
GREG: No. We may need some advice on that. The main thing's to make sure we have the right size sample, not too big or too small.
LISA: That shouldn't be difficult. Right, what do we need to do next? We could have a look at the timetable for the science classes … or perhaps we should just make an appointment to see one of the science professors. That'd be better.
GREG: Great. And we could even get to observe one of the classes.
LISA: What for?
GREG: Well … OK maybe let's just go with your idea. Right, well …
Practice Cambridge 11 – test 2 – section 3
A
A
C
B
B
B
A / D
A / D
C / E
C / E
HELEN: I've brought my notes on our Biology Field Trip to Rocky Bay, Colin, so we can work on our report on the research, we did together.
COLIN: OK. I've got mine too. Let's look at the aims of the trip first.
HELEN: Right. What did you have?
COLIN: I just put something about getting experience of the different sorts of procedures used on a field trip. But we need something about what causes different organisms to choose particular habitats.
HELEN: I agree. And something about finding out how to protect organisms in danger of dying out?
COLIN: In our aims? But we weren't really looking at that.
HELEN: I suppose not. OK, now there's the list of equipment we all had to bring on the field trip. What did they tell us to bring a ruler for?
COLIN: It was something about measuring the slope of the shore, but of course we didn't need it because we were measuring wind direction, and we'd brought the compass for that …
HELEN: But not the piece of string to hold up in the air! Didn't Mr Blake make a fuss about us leaving that behind.
COLIN: Yeah. He does go on. Anyway, it was easy to get one from another of the students.
HELEN: Now, the next section's the procedure. I sent you the draft of that.
COLIN: Yeah. It was clear, but I don't think we need all these details of what time we left and what time we got back and how we divided up the different research tasks.
HELEN: OK. I'll look at that again.
COLIN: Then we have to describe our method of investigation in detail. So let's begin with how we measured wave speed. I was surprised how straightforward that was.
HELEN: I'd expected us to have some sort of high-tech device. not just stand there and count the number of waves per minute. Not very precise, but I suppose it was good enough. But the way we measured the amount of salt was interesting.
COLIN: In the water from the rock pools?
HELEN: Yeah, oh, I wanted to check the chemicals we used in the lab when we analysed those samples – was it potassium chromate and silver nitrate?
COLIN: That's right.
HELEN: OK. And we need the map of the seashore. You just left that to me. And I had to do it while the tide was low, well that was OK, but the place I started it from was down on the beach. then I realised I should have gone up higher to get better visibility, so I  had to start all over again. But at least I'd got the squared paper or I'd have had problems drawing it all to scale.
COLIN: Yes. It looks good. We could get a map of the region off the internet and see if we need to make any changes.
HELEN: I had a look but I couldn't find anything. But you took some pictures, didn't you?
COLIN: Yeah. I'll email them if you want.
HELEN: OK. I'll make my amendments using those. then I can scan it into our report. Great.
HELEN: Now when we get to our findings I thought we could divide them up into the different zones we identified on the shore and the problems organisms face in each zone. So for the highest area …
COLIN: … the splash zone?
HELEN: Yeah, we found mostly those tiny shellfish that have strong hard shells that act as protection.
COLIN: But not from other organisms that might eat them, predators?
HELEN: No, that's not the main danger for them. But the shells prevent them from drying out because they're in the open air for most of the time.
COLIN: Right. And since they're exposed, they need to be able to find some sort of shelter or cover themselves up, so they don't get too hot. Then in the middle and lower zones, nearer the sea, we need to discuss the effects of wave action …
HELEN: Yes, and how organisms develop structures to prevent themselves from being swept away or even destroyed by being smashed against the rocks.
COLIN: I haven't done anything on the geological changes. I don't know what to put for that.
HELEN: No, we weren't concentrating on that. Maybe we need to find some websites.
COLIN: Good idea. I've got the lecture notes from Mr Blake's geology course, but they're too general. But we could ask him which books on our Reading List might be most helpful.
HELEN: Right. OK, now I did a draft of the section of sources of possible error in our research, but I don't know if you agree. For example, the size of the sample, and whether it's big enough to make any general conclusions from. But I thought actually we did have quite a big sample.
COLIN: We did. And our general method of observation seemed quite reliable. But we might not be all that accurate as far as the actual numbers go.
HELEN: Yeah, we might have missed some organisms if they were hiding under a rock. for example. I wasn't sure about the way we described their habitats. I decided it was probably OK.
COLIN: Yeah, and the descriptions we gave of the smaller organisms, they weren't very detailed, but they were adequate in this context. I'm not sure we identified all the species correctly though.
HELEN: OK, we'd better mention that. Now, how …