آموزش سوالات Matching لیسنینگ آیلتس
سوالات Matching (مطابقت) در لیسنینگ آیلتس بسیار رایج است، بنابراین قصد دارم با ذکر چند مثال و تکنیک، آمادگی شما را برای پاسخگویی به این نوع سوالات بالا ببرم.
این نوع سوالات معمولاً در بخشهای 2 یا 3 ظاهر می‌شود که در آن دو یا چند نفر صحبت می‌کنند. سوالات شامل دو مجموعه اطلاعات است و شما باید آنها را مطابقت دهید.
کلمات مترادف و پارافریز
مترادف و پارافریز در لیسنینگ آیلتس بسیار مورد استفاده قرار می گیرد. یکی از مهمترین کارها که در زمان 30 ثانیه‌ای قبل از شروع صدا باید انجام شود، این است که به برخی از کلمات و عبارات معادل فکر کنید که ممکن است برای بیان اطلاعات جواب مورد استفاده قرار گیرد.
آنها از عبارات مختلف برای انتقال یک معنی استفاده می کنند. بنابراین شما باید به کلمات مثبت، منفی و ساختار جملات توجه کنید.
جملات نقض
ممتحن سعی می کند شما را با عوامل مزاحم گمراه کند.
حواس پرت کننده کلمه یا عبارتی است که اطلاعات اصلی داده شده را تغییر داده یا تصحیح می‌کند. بنابراین، ممکن است به شما پاسخی داده شود و سپس دوباره آن را عوض کند.
به دو مثال زیر دقت کنید:
I'd really like to study Identity and Popular Culture but I don't like the lecturer so I'm not going to take it.
I discounted Culture and Society. However, a friend took it last year and loved it, so I'm seriously considering it as an option.
"But" و "However" دو حواس پرت کننده رایج هستند، اما بسیاری از کلمات و عبارات دیگر هم وجود دارد که می توان از آنها برای تغییر اطلاعات داده شده استفاده کرد. از این موارد در لیسنینگ زیاد است، بنابراین عجله نکنید.
بهترین رویکرد برای علامت گذاری پاسخ ها این است که به محض اینکه فکر می کنید پاسخ صحیح را شنیده اید، حروف A ، B یا C را در کنار آن سوال بنویسید.  اما در صورت تشخیص اشتباه به گوش دادن ادامه دهید تا به سرعت پاسخ صحیح را در کنار آن بنویسید.
جواب‌ها را می توانید روی کاغذ آزمون خود بنویسید. در پایان آزمون Listening حدود 10 دقیقه فرصت دارید تا پاسخ های خود را به پاسخ نامه منتقل کنید.
 Practice Cambridge 11 – test 3 – Section 2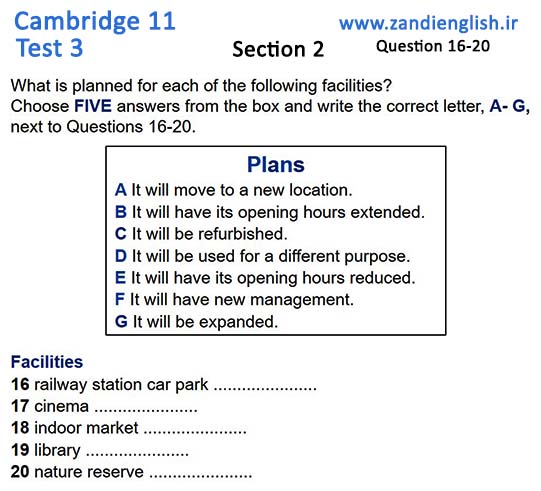 G
A
C
B
F
Now I'll very quickly outline current plans for some of the town's facilities, before asking for your comments.
As you'll know if you regularly use the car park at the railway station, it's usually full. The railway company applied for permission to replace it with a multi-story car park, but that was refused. Instead, the company has bought some adjoining land, and this will be used to increase the number of parking spaces.
The Grand. the old cinema in the high street, will close at the end of the year, and reopen on a different site. You've probably seen the building under construction. The plan is to have three screens with fewer seats, rather than just the one large auditorium in the old cinema.
I expect many of you to shop in the indoor market. It's become more and more shabby looking, and because of fears about safety. it was threatened with demolition. The good news is that it will close for six weeks to be made safe and redecorated, and the improved building will open in July.
Lots of people use the library, including school and college students who go there to study. The council has managed to secure funding to keep the library open later into the evening, twice a week. We would like to enlarge the building in the not-too-distant future, but this is by no means definite.
There's no limit on access to the nature reserve on the edge of town, and this will continue to be the case. What will change, though, is that the council will no longer be in charge of the area. Instead, it will become the responsibility of a national body that administers most nature reserves in the country.
OK, now let me ask you …
Practice Cambridge 11 – test 4 – section 2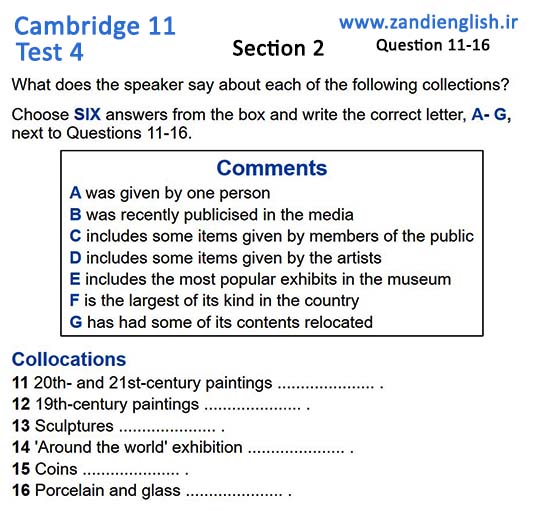 E
D
G
B
C
A
Good morning, and welcome to the museum – one with a remarkable range of exhibits, which I'm sure you'll enjoy. My name's Greg, and I'll tell you about the various collections as we go round. But before we go, let me just give you a taste of what we have here.
Well, for one thing, we have a fine collection of twentieth and twenty-first-century paintings, many by very well-known artists. I'm sure you'll recognize several of the paintings. This is the gallery that attracts the largest number of visitors, so it's best to go in early in the day before the crowds arrive.
Then there are the nineteenth-century paintings. The museum was opened in the middle of that century, and several of the artists each donated one work – to get the museum started, as it were. So, they're of special interest to us – we feel closer to them than to other works.
The sculpture gallery has a number of fine exhibits, but I'm afraid it's currently closed for refurbishment. You'll need to come back next year to see it properly, but a number of the sculptures have been moved to other parts of the museum.
'Around the world is a temporary exhibition – you've probably seen something about it on TV or in the newspapers. It's created a great deal of interest, because it presents objects from every continent and many countries, and provides information about their social context – why they were made, who for, and so on.
Then there's the collection of coins. This is what you might call a focused, specialist collection, because all the coins come from this country, and was produced between two thousand and a thousand years ago. And many of them were discovered by ordinary people digging their gardens. and donated to the museum!
All our porcelain and glass were left to the museum by its founder when he died in 1878. And in the terms of his will, we're not allowed to add anything to that collection: he believed it was perfect in itself, and we don't see any reason to disagree!